Step by Step Tutorial - Samouse by Cartoon Miniatures
Ana Polanšćak, 4

th

September 2017
Text written and miniature painted by: Ana Polanšćak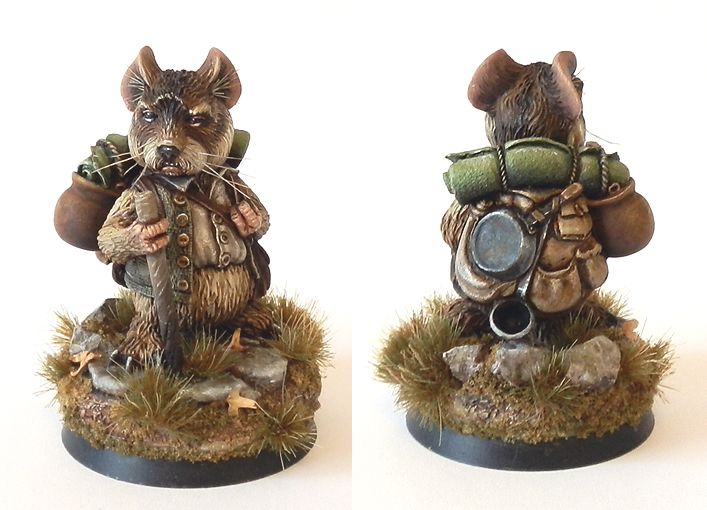 Samouse is a 40mm resin figure coming from Cartoon Miniatures. It consists of six parts: head, body, arm with walking stick, backpack, pot, scenic base.
Before painting, a miniature needs to be cleaned up. Using a knife and file, I removed mould lines and other imperfections that come with the casting process. Before priming, it is recommended to wash your miniature with dish soap to get rid of release agent from casting and oils left by human fingers that handled the mini. These can otherwise cause difficulties with paint adhesion. I painted Samouse with his backpack separate most of the way, because if it had been attached, it would have made some parts hard to reach. This is a masterfully sculpted and well cast figure, with crisp details and defined textures. This makes it an especially good subject for using glazes and washes as main techniques.
I began with fur, as it covers the largest area on the mini and makes the lowest layer (the clothing and everything else sits on top pf the fur). This way, if paint goes over other areas it is not a big deal – those parts have not been started yet. I prepared glazes by mixing paint with water and matt medium. When applied, this is meant to produce a pretty transparent layer on the figure. Ochre, black, ivory and different browns were glazed over different parts of fur to create lighter and darker areas with different tints. Apart from providing shading, this variation in colour makes for a more natural look. Animal fur is rarely the exact same colour on every part of the animal. Each glaze must dry completely before the next one is applied, to avoid them bleeding into each other uncontrollably. Gradual transitions are achieved by making the layers partially overlap. My final layer was a slightly thinned off-white, which was used to individually highlight only the lightest hairs. When the fur was done I carefully painted the details of Samouse's face (eyes, nose...) and his paws.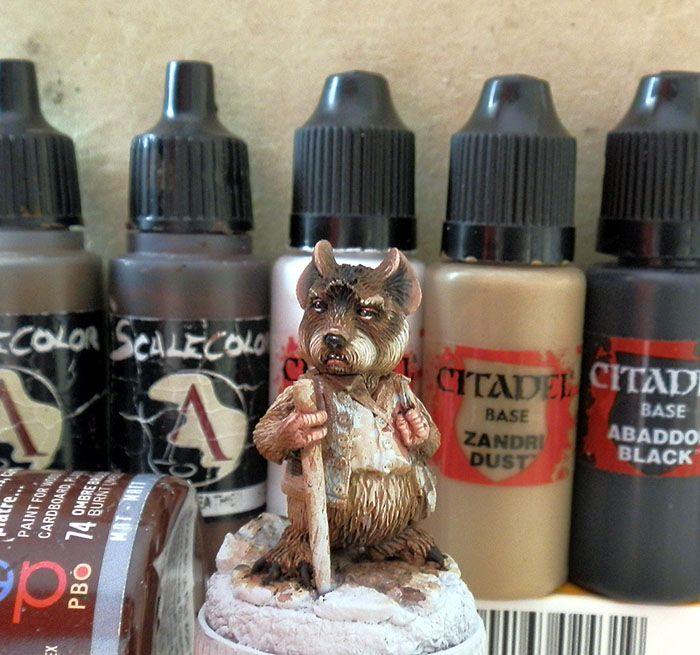 Next came the textiles. Since this is a mouse version of the hobbit Sam from The Lord of the Rings films, the colour scheme was preset for me. In order for the character to remain recognizable, the outfit should match the one Sam wears in Peter Jackson's movie adaptations of Tolkien.
The outer layer of clothing has a pronounced texture, so it was painted with washes and glazes, just like the fur. I used greens and greys here. The image shows the first layer (left) and the visible progress a few layers after that (right).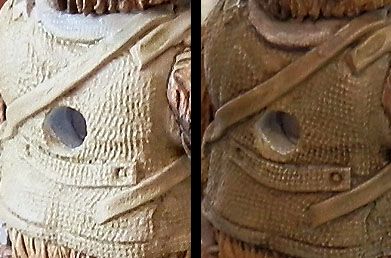 When the waistcoat and shirt were finished, I turned my attention to leather straps and buttons. The latter were, like the rest of tiny details, basecoated with only slightly thinned paint. They were shaded with brown wash (special runny paint meant to flow into cracks and crevasses) and finally highlighted with a fine detail brush.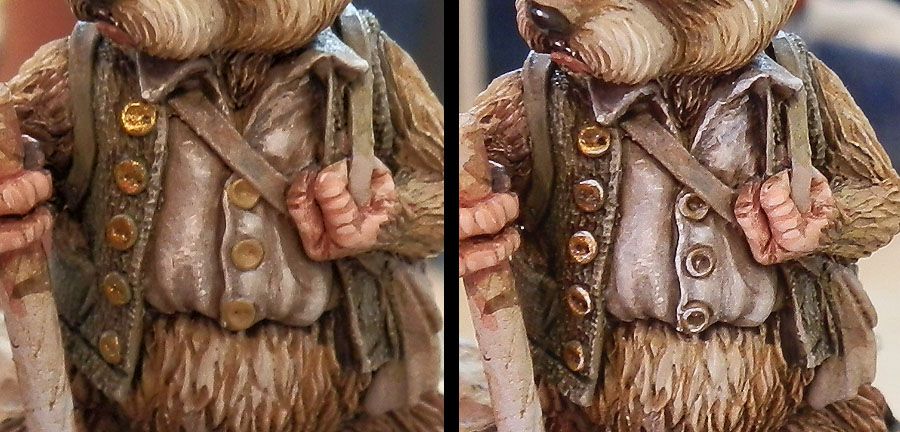 The backpack got its first few glazes before I attached it to the mouse's back. Finally putting it in its proper place provided me with context, and enabled me to better decide where to put shadows. Whenever I had leftover glaze on my palette, I applied it to the base instead of letting it dry up.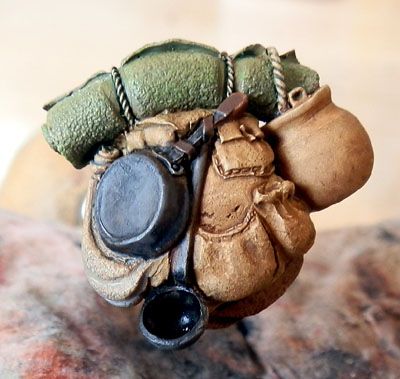 By the time the miniature was done, the base had already been well covered with various browns, greens and greys. I tweaked this a little bit (1), then moved onto the light grey stones (2). For the base to be less barren, I applied PVA in places and scattered some green spongy flock on top of that (3). The flock was washed with greens and yellows, and then the base was finished off with tufts of static grass and some leaves (4).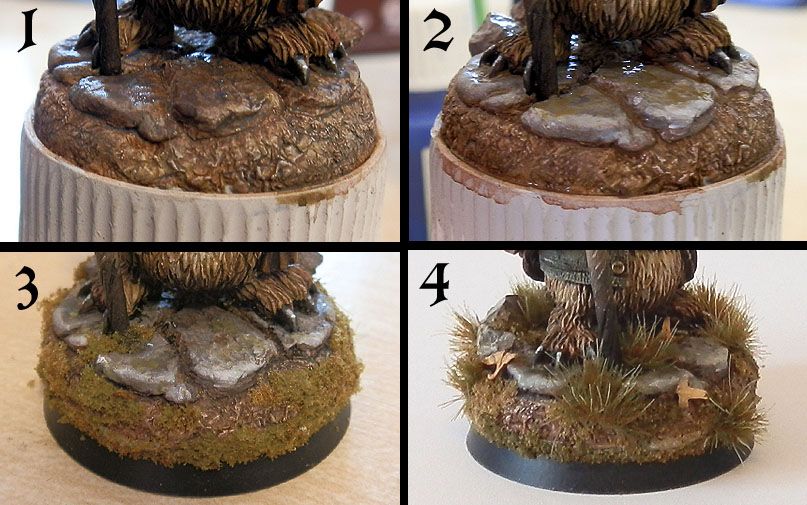 The final stroke before sealing the mini was adding whiskers and ear hairs. Each individual hair was cut to length with scissors, planted on the figure with tweezers and fixed in place with superglue.
Latest articles
Latest battle-reports