Agram Group Build Project #1 (part 6)
Krunoslav Belinić, 22

nd

October 2021
In this series of articles, we will follow our Goran, Kruno and Marko in the making of a diorama set in New York / Gotham in the mid-1980s. Diorama is being built as part of a new UMS "Agram" project called Agram Group Build, which was created after the trio discussed joint projects to be done on Wednesdays and how cool it would be to gather more people to work on something together… This gave birth to the idea of Group Builds... The idea is for everyone to do something on each of these three projects - the main rule (except that there are no rules) is not to mess with other people's work. That we all participate and make some kind of Frankenstein monster ...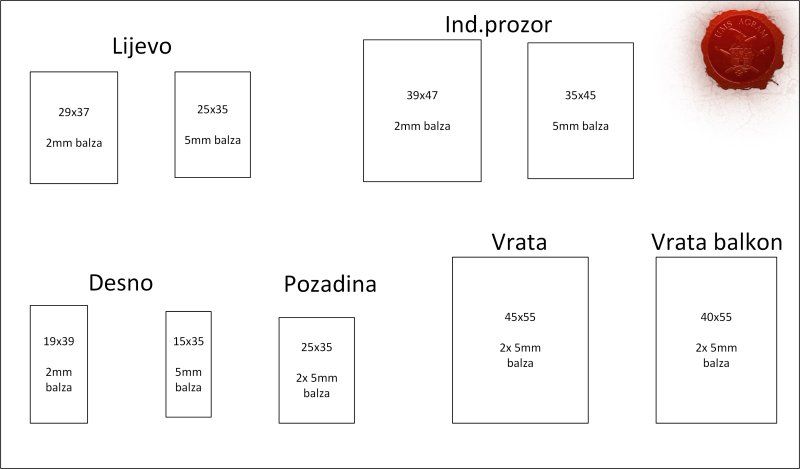 MARKO: Similar to the last time, I expected that running the Terrain Workshop would occupy me for the most part on Wednesday, so I again threw myself into planning and making technical drawings for the rest of the windows, doors and openings on all the walls. It's the same philosophy - we make negatives so we can mould them and make identical negative castings before we make wall moulds. After last Wednesday, I realized that we were missing two or three more openings - both doors (at the top of the building and from the butcher) and an industrial window on the ground floor of the left building.

KRUNO: Today's group building was reduced to finishing the negatives for the moulds for various openings on the diorama (windows, various - 4 pieces; doors, various - 2 pieces). Basically, the same technique as last time. Measurement and cutting of balsa, this time 5 mm thick. I noticed that my right hand swung slightly to the right when cutting. Hmmm! No, it's not a model knife thing, I've tried it with another one. I glued the cut elements with Super Attack and carefully sanded the sides to smooth out the bumps and "drift" of the hand. I was careful not to shorten the dimensions of the element too much, which often happens to me when I get too carried away with the quality of workmanship. So I counted within myself how many times I dragged the elements across the sandpaper, trying to keep it as flat as possible and checking after each pull that I made.

After that, I was happy to open a "new toy" - freshly arrived MiniArt accessories for dioramas - outdoor air conditioners and satellite dishes. I arranged the air conditioner, only one… because fate wanted us to get a box with a small error… namely, the box was declared to contain 2 air conditioners and 2 satellite dishes, and we got 1 air conditioner and 4 satellite dishes according to the sprues… which means that it will be very hot on our diorama, but everyone will have a good TV program…

Basically, the air conditioner is folded in half. I didn't assemble the PE parts until I painted the interior of the climate. Honestly I don't have much (and positive) experience with PE parts, so it will be interesting to learn. I report how it was in any of the following reports from GB.

DOMAGOJ: Although I did not actively participate in the realization of the group build today, I took the opportunity to talk to Krun when he finished his work. I hope to be able to balance participation with other activities in the association over the next term.

Feel free to contact us here if you are interested! We are every Wednesday from 8 pm to 10 pm in KD ZZTK on Trg žrtava fašizma 14.
Latest articles
Latest battle-reports
17

th

November 2021, GW - Warhammer 40.000, and Nino Marasović (Space Marines)
27

th

October 2021, GW - Warhammer 40.000, Borna Pleše (Space Marines) and Josip Strnad (Space Marines)
20

th

October 2021, GW - Warhammer 40.000, and Domagoj Krpan (Dark Eldar)